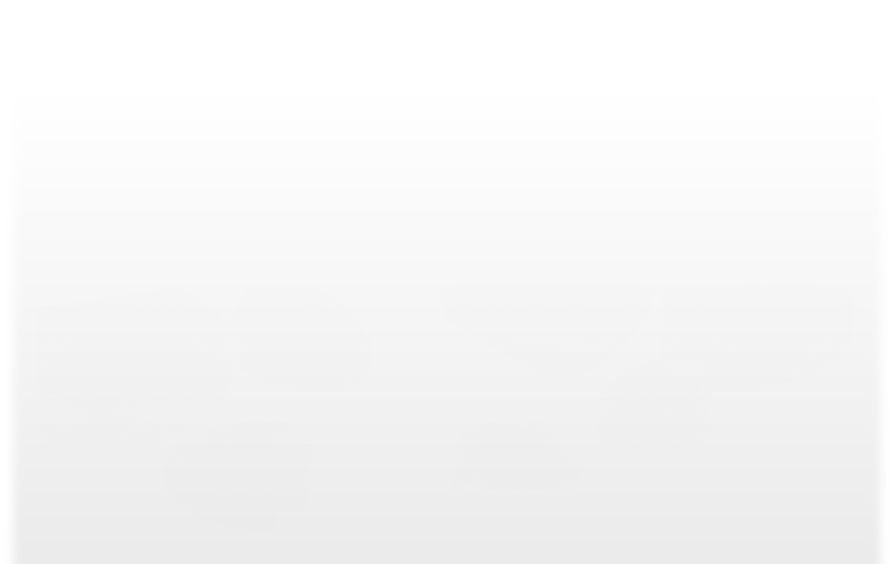 Contact Olson Ranch at: 19139 1800 Rd. Altoona, Ks. 66710
Home: (620) 778-3207 Cell: (620) 431-8731
Olsonranchks@hotmail.com


Randy and Rae Lynn Olson started raising and selling performance quarter horses in 1998 shortly after they were married. Both of them have spent most of their lives working with horses and cattle. Between the two of them, they have 5 children who are all grown.
Rae started barrel racing at the age of 13 and quickly found a passion that would be with her the rest of her life. Her father, Cline Stanley, was very influential in teaching her to ride. By high school, Rae was competing and winning at rodeos throughout the Mid-West. Several years later, Rae continues to barrel race and educate others about the sport and horses.
Randy received his first horse in high school. He used it to help work cattle on their family ranch, the original 'Olson Ranch'. Since then, he's never stopped riding or roping. Randy often uses their horses to rope cattle right in the pasture where they can be treated and released.
Their goal in raising performance quarter horses is to focus on CLASSIC RUNNING BRED BLOODLINES WITH STRONG SIRE AND DAM GENETICS. To them, nothing is more important than making sure each horse is put in capable hands who can appreciate the speed and athletic ability of the animal and use that to perform.


We believe in working with our horses from a very young age and exposing them to multiple conditions so they're ready for anything a rider needs.
As babies, they're taught to 'give' to pressure so they know lateral and vertical flexation. This is paramount in helping a horse learn coordination. During this time, they're halter broke and started on basic horsemanship.
2-3 years: If a horse is still at Olson Ranch at this age, they'll start working them around cattle. They'll start progressing from ground work to full fledged riding and horsemanship. Rae calls it a "small trail class". During this time, they'll also be introduced to the barrel pattern. Instead of repeatedly drilling the horses on the barrel pattern, they incorporate the barrels into their everyday riding. This prevents horses from getting 'burnt out' on the pattern.
4+years: By this point, many horses are ready to start running in futurities and having some real fun! At Olson Ranch, horses of this age are commonly exposed to long hauls, rodeos or barrel races, and many other things that will help break them of 'spooking'.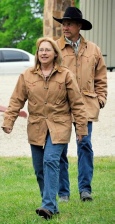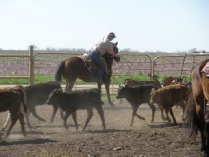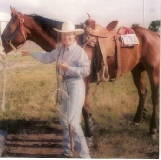 Rae and Afton Dons Express after she won the Jr. Horse Average at the AQHA Show in OKC in 2000.